Trinidad
Birth place of the steel pan,Trinidad and Tobago's rich culture and ethnic diversity is reflected in our numerous festivals,including the spectacular annual carnival celebration
Beyond our beautiful beaches,Trinidad and Tobago is rich in biodiversity with more thaan 430 bird species, 108 mammals, 55 reptiles, 620 types of butterflies and the oldest protected rainforest in the western hemisphere
Where is Trinidad and Tobago?
Caribbean islands between the Caribbean Sea and the North Atlantic Ocean, northeast of Venezuela

Region: Central America and the Caribbean
Capital: Port-of-Spain
Coordinates: 10° 39" North, 61° 30" West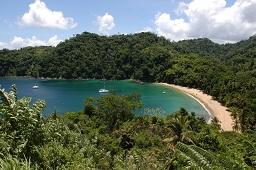 When first-time visitors come to the Caribbean, they may expect to find a laid-back paradise of pina coladas and pool-sides. Trinidad challenges the status breaks the mold. You can chart your own adventure and discover the unexpected with a vast choice of festivals, fun events and a host of other adrenaline-generating activities.
Port of Spain, our bustling capital city, is filled with an enchanting myriad of art galleries and restaurants. At the National Museum you can delve into the culture of our country and its diverse people.
If you prefer to be more laid back and take your time discovering our treasures, we also have our share of quiet quality. Once part of the South American mainland, Trinidad, with its boot-like shape measuring 80 by 60 kilometres, boasts an ecological and geographical diversity unmatched in the region.
The gorgeous, sandy beaches along our North Coast provide the perfect atmosphere for seclusion, rest and recreation. Dominated by densely forested peaks, the northern interior offers excellent hiking trails framed by canopies of lush, indigenous rain forest, while the low, predominantly agricultural plains of Central Trinidad strike a fascinating contrast.
Our East Coast is home to protected wetlands and miles of beach frontage lined by groves of coconut palms, known to locals as the 'Cocal'. The island's 'Industrial Capital' of San Fernando is a hilly, friendly base from which to explore the island's modern oil towns, picturesque
fishing villages and calm, deserted beaches
Northern Trinidad
The forested hills of the Northern Range stretch across the entire 80km width of the northern part of Trinidad, from beyond Port of Spain in the west across to the Atlantic in the east. Away from Port of Spain and the towns along the Eastern Main Road, the hills are sparsely populated and natural. There are trekking trails through the forests and good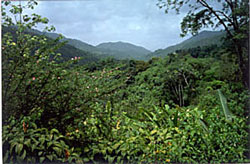 places for birds and other wildlife.
Along the rugged North Coast the hills meet the sea in a succession of beautiful bays between craggy headlands. There is a choice of pleasant beach hotels and an absence of large scale international tourism. It's a lovely area to explore and spend time in.
Just two roads cross the hills to the north coast: from Port of Spain to Maracas Bay, and from Arima to Blanchisseuse. A narrow coastal road connects the two. The only other part of the north coast reached by road is in the extreme east; to get to it you have to drive across the island to Toco and around the Northeast Tip.
The most accessible and popular beaches are at Maracas Bay and Las Cuevas. Being close to Port of Spain they get very busy at weekends. Look for 'Richards Bake and Shark' a favourite food stall at Maracas Bay.
Further along the coast the beaches are quieter. At the end of the road you reach Blanchisseuse, a fishing village with an assortment of weather-beaten board houses adorned by brightly flowering bougainvillea, set above a succession of pristine, wild sandy beaches. The atmosphere is relaxed and friendly. There is a church, grocers shop, bar, post office, school and a smattering of simple guest houses used by local holiday makers. Its name dates from French Creole times and the laundresses who washed clothes in the village stream.
Beyond Blanchisseuse there is 30km of coast before the next stretch of tarmac in Matelot. In between there are some fabulous wild beaches and magnificent coastal views. The area can only be reached on foot, following trails which dip and climb through lush forests of old coffee, cacao and citrus estates. See the North Coast Trek from Braso Seco to Matelot on page 13.
The Northeast Tip is one of Trinidad's best kept secrets. It is a region of tiny well-kept rural communities, enticing scenery and quietitude. Matelot is a small hamlet typical of the rural communities scattered among the hills of the Northern Range. At Grande Riviere there is a characterful hotel (see 'Places to stay in Northern and Southern Trinidad') and an attractive beach. Magnificent leatherback turtles nest here and at several other beaches in this part of the island (see panel below).
There are good opportunities to explore the Northern Range itself. Small roads to isolated villages wind through the hills amid the forest, passing huge stands of bamboo, dense ferns, heliconias and philodendrons growing beneath trees festooned with bromeliads, orchids and liana vines. Rivers tumble down from the peaks to carve deep swimming pools, cascades and waterfalls along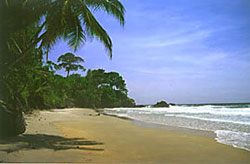 the way.
In the plantation era much of this region was given over to cocoa, coffee or citrus, flourishing beneath the shade of the tall 'Immortelle' trees. A few plantations are still active, others have reverted to forest. Long forgotten donkey paths, known as 'bench trails' criss-cross the former plantation lands, providing excellent hiking routes through an otherwise inaccessible area.
The mountain rains make for lush vegetation that supports a diversity of wildlife including land crabs, fresh water shrimps, agouti, armadillo, red brocket deer, manicou, wild pigs, bats, squirrels and an abundance of colourful hummingbirds, tanagers and honeycreepers, plus the rare Trinidad Piping-guan.
Brasso Seco is one of the few communities that lie deep within the Northern Range. Here villagers have grouped together to offer rooms for rent in their own homes. The amenities are humble but proudly kept and you can be sure your welcome will be warm. Its multicultural households include Amerindian, Spanish, British, African and East Indian origins. The two main events in the village's calendar are Christmas and the Harvest Festival in May.
At Trinidad's northwest corner lies the Chaguaramas Peninsula. During WWII the peninsula's natural harbour was leased to the US Navy. Today the area is a yachtsman's haven. Thousands of sailing boats moor in the marinas here to avoid the hurricane season in the rest of the Caribbean.
The narrow channel between Trinidad and Venezuela is notoriously rough and is known as Boca del Dragon ('dragon's mouth'). A row of rocky islands span the channel. The well-to-do have homes on the nearest islands and commute to Port of Spain by speed boat. Visitors can take an open boat 'down de islands' to nearby Gaspar Grande island and Gasparee Caves, once used by pirates, where sunlight sparkles on crystals in the rocks, and a deep pool reflects the bright colours and strange shapes of stalagmites and stalactites.
Just south of Port of Spain is Caroni Swamp - a 'must' for anyone interested in wildlife. In the late afternoon you take a flat-bottomed boat through the mangrove to see lines of scarlet ibis, herons and egrets coming to roost. The intense red plumage of the scarlet ibis, Trinidad's national bird, is astonishing and burns itself into the memory. You can also expect to see fiddler crabs, oysters, four-eyed fish, tree boa and spectacled caiman.
Central & Southern Trinidad
Driving south from Port of Spain, the scenery changes as you approach Waterloo, through avenues of tall palms between fields of sugar cane and grazing water buffalo. The Temple-in-the-Sea at Waterloo is a white d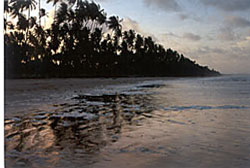 omed Hindu temple built on tidal flats and reached by a pier. Its prayer flags and funeral pyres are a reminder of the rich cultural mix of Trinidadian society.
Continuing south on Trinidad's west coast you reach Pointe-à-Pierre Wild Fowl Trust. This is an attractive park where you can walk along lakeside trails with close views of breeding scarlet ibis and other waterbirds, and a great variety of trees and plants: a photographer's delight, particularly when the lotus and waterlilies are in bloom. The Trust is a volunteer organisation involved in breeding Trinidad's endangered waterfowl and runs programmes for schools and community groups. Permits must be arranged in advance.
San Fernando is Trinidad's second city - a maze of winding streets below San Fernando Hill, which offers great all round views. As in parts of the capital, keep clear of potentially risky situations on the back streets.
Ask anyone from Port of Spain if they've been south beyond San Fernando and 9 times out of 10 the answer will be 'no', although the journey is less than 60 miles. Southern Trinidad gets along quite independently, with farming and fishing, a little light industry, and oil derricks off the southwest and southeast coast. Its unstable geology yields some small-scale surprises, with several areas of 'mud volcanoes' blowing dollops of thick gloop from earthy pimples a few feet high, and the remarkable Pitch Lake - one of three asphalt lakes in the world. Its tar was used by Sir Walter Ralegh to caulk his ships and is still used on roads around the world. If you explore it with a guide you will be intrigued by the experience of walking on it, seeing how the tar is slowly moving, learning about its long history and how local wildlife has adapted to it. You may even see a fish eagle cooking its breakfast on the hot tar.
Cedros and Icacos on Trinidad's remote South Coast are accessed by long empty palm-lined roads stretching away to the horizon. Time passes very slowly here. The waters of the Orinoco bring good fishing and the prospect of a little smuggling with Venezuela, but leave beaches and sea an unappetising shade of brown. Erin and Moruga have a similarly remote feel.
Central Trinidad is mostly agricultural, dotted with small villages and townships, winding lanes and the trappings of a rural life: small churches, village schools, and fiercely contested cricket matches.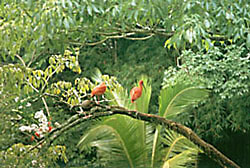 Trinidad's East Coast has mile after mile of magnificent wild beaches where lines of Atlantic breakers roll ashore on fine yellow sand strewn with coconut husks and chip-chip shells, backed by a million tall palms that line the shore. Cocal Beach on Cocos Bay is 4km long, deserted but for the occasional family of week-enders.
At the end of Cocos Bay a sand spit across the mouth of the Nariva River has created Nariva Swamp behind - a freshwater wetland of reed fringed marshes with mangroves edging the more brackish channels. It is an important habitat for many birds: waders, rails and raptors, and for the endangered West Indian Manatee. At dusk flocks of red-bellied macaws come to roost in a stand of royal palms near the shore. Almost surrounded by Nariva Swamp is Bush Bush Sanctuary, a delightful pocket of hardwood forest and silk cotton trees bordered by moriche palms. Here you can walk on forest trails with good chances to see Capuchin Monkey, Red Howler Monkey, Tree Porcupine and perhaps White-bearded Manakin at their leks performing competitive acrobatics on the forest floor. On the lane into Bush Bush there is a church where Christians, Muslims and Hindus take turns to worship and each faith's religious symbol is painted over the door.
In the southeast just beyond Guayaguayare lie the Trinity Hills, named by Christopher Columbus on his third voyage. Its three peaks were his first landfall, seen just as his ships were running out of drinking water; he gratefully named the land 'La Trinite' or Trinidad.