Nature
NATURE
Imagine watching co
lorful tropical birds - tanagers, toucans, and hummingbirds - from the comfort of the verandah at the ecolodge. Or learning about exquisite butterflies as they bask and feed in their natural habitat. Would you enjoy a quiet boat trip through a marsh at dusk, with the spectacle of hundreds of scarlet ibis overhead returning to roost? How about swimming, snorkeling, or relaxing on beautiful beaches along the clear turquoise waters of the Caribbean? We'll enjoy all this and more on this Nature Discoveries trip to Trinidad and Tobago.
Trinidad and Tobago are little-known jewels of the southern Caribbean. Just off the coast of Venezuela, there is a distinct South American influence to the bird and plant life. Its richness and diversity belies the relatively small size of these islands.
After a hiatus of over a decade, Nature Discoveries looks forward to returning to the sister islands of Trinidad and Tobago. These islands are renowned for their species diversity, friendly people, and easy accessibility to a wide range of habitats. The natural wonders of these islands are legion. In Trinidad alone are well over two hundred species of breeding birds, many colorful butterflies, a terrific assortment of frogs, and a truly tropical flora with wild orchids, bromeliads, and a great variety of trees. Add to this the coral reefs, sea birds, and the relaxing ambience of Tobago.
We stay just at two lodges on this trip - not a lot of moving around. For six nights we are based at the world-renowned Asa Wright Nature Centre and Lodge, a 200-acre wildlife sanctuary. The Centre is situated in a typical valley of Trinidad's Northern Range. These sites have been traditional centers of coffee, cocoa, and citrus plantations and many of these plants are maintained at the Centre. Natural second-growth has taken over and festooned the abandoned plantation vegetation with vines and a host of epiphytes. The whole effect is one of being deep in a tropical rainforest. The experience of watching the birds come to the fruit or hummingbird feeders right from the verandah is unforgettable. Asa Wright is our base for our daily explorations of Trinidad.
Next we fly to Tobago for nearly 3 full three days, staying at the charming Blue Waters Inn, a perfect base for visiting Little Tobago Island, and enjoying the marine environment.
This trip to Trinidad and Tobago has a slower, more relaxed pace than many other Nature Discoveries trips. We stay, essentially, at two places (except for the last night at a B and B by the airport), so there is not a lot of moving from place to place. The trip will have a leisurely approach to the natural history of the tropics - by taking time to observe and discuss our sightings of various birds, plants, butterflies, and more - our participants will gain a deeper understanding of the natural world, and the myriad interactions and interrelationships. We've built in a time to allow simply enjoying the magnificent environment wherever we are. For those who want to photograph, sketch, or just read and relax, there is time for that, mixed in with the usual interesting field outings that are trademark of Nature Discoveries trips.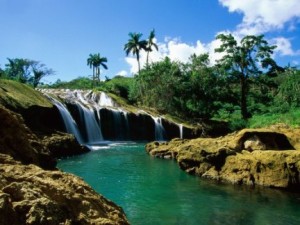 Your Nature Discoveries leader for this trip is scheduled to be Steven Daniel (this will be confirmed closer to the departure time.) We will also have the benefit of local guides. Together they will point out the subtle interactions and wonders from birds to flowers, lizards to bugs, to deepen your understanding of tropical rainforests and ecosystems. You are sure to learn a lot and have fun along the way! Steven is an experienced group leader and expert naturalist, who has previously led a trip to Trinidad, as well as dozens of trips throughout the New World Tropics, including many to Costa Rica, Ecuador, and Peru. He will help you to appreciate the birds, plants, coral reef fish, and many other aspects of the fascinating natural history of the islands of Trinidad and Tobago.
Even though they are small, Trinidad and Tobago have many different kinds of habitats for plants and animals. They have Tropical Rain Forest, Savannah, Semi-deciduous Forest, Mangrove Swamp and Marsh Lands
Animals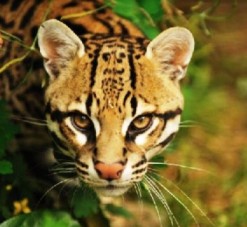 Trinidad has more different kinds of bats than any other place in the world. There are about 100 different kinds of mammals native to the island, and 60 of these are bats. Because Trinidad is so close to South America and has many different kinds of habitats, the island has many different kinds of animals. The numbers of different kinds of animals that have been reported living on the island include108 mammals, 400 birds, 55 reptiles, 25 amphibians, and 617 butterflies. Some of the animals found there include the agouti, paca, armadillo, opossum, deer, wild dogs, ocelot, and anteater. Amazon parrots, iguanas, manatees, and capuchin and howler monkeys also live on the islands. Endangered leatherback turtles, green loggerhead turtles and hawksbill turtles all nest on the beaches of both Trinidad and Tobago. Because of their location, the islands are also a stopping point for Northern or Southern migratory birds and butterflies.
Because the islands are located where the cool North Atlantic currents come together with the warmer Caribbean waters and the Orinoco River, the waters along the coasts have many different kinds of marine animals.
Plants
There are also many different kinds of plants found on the islands of Trinidad and Tobago. Purple and yellow poui trees and orange immortelles grow on the hillsides. More than 700 kinds of orchids grow there. Other kinds of trees that grow on the islands include palm, almond, banyan, breadfruit, flamboyant, cassia, African tulip, silk cotton, matchwood and teak. Many beautiful flowers grow there such as amaryllis lilies, hibiscus, bougainvillea, giant anthuriums and heliconias.

A large part of Trinidad is covered with forests. A lot of this area is tropical rainforest.