Sports
Olympic Games:
Hasely Crawford won the first Olympic gold medal for Trinidad and Tobago in the men's 100 m dash in the 1976 Summer Olympics. Nine different athletes from Trinidad and Tobago have won twelve medals at the Olympics, beginning with a silver medal in weightlifting, won by Rodney Wilkes in 1948 Summer Olympics and most recently, a bronze medal by George Bovell III in 2004 Summer Olympics. Ato Boldon has won the most Olympic and World Championship medals for Trinidad and Tobago in athletics with eight in total - four from the Olympics and four from the World Championships. Boldon is also the only world champion Trinidad and Tobago has ever had in athletics competition. He won the 1997 200 m World Championship in Athens, Greece.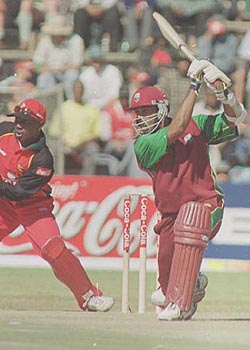 Cricket:
Cricket is one of the most popular sports of Trinidad and Tobago, with intense inter-island rivalry with its Caribbean neighbours. Trinidad and Tobago plays both One Day International and Test cricket as amember of the West Indies Cricket team. The national team plays at the first-class level in regional competitions. Trinidad and Tobago along with other islands from the Caribbean co-hosted the 2007 Cricket World Cup. Brian Lara, world record holder for the most runs scored both in a Test and in a First Class innings, is from Trinidad and Tobago and is often known as the Prince of Port of Spain and as one of the best cricketers in Trinidad and Tobago.
Football:
The national football team qualified for the 2006 FIFA World Cup for the first time by beating Bahrain in Manama on 16 November 2005, making them the smallest country ever (in terms of population) to qualify. The team
, coached by Dutchman Leo Beenhakker, and led by Tobagonian-born captain Dwight Yorke, drew their first group game - against Sweden in Dortmund - 0-0, but lost the second game to England on late goals, 0-2. They were eliminated after losing 2-0 to Paraguay in the last game of the Group Stage. Prior to the 2006 World Cup qualification, T&T came agonisingly close to qualifying in a controversial 1974 campaign and again for the 1990 competition needing only a draw at home against the United States but losing 1-0.
Trinidad and Tobago hosted the 2001 FIFA U-17 World Championship.
Horse Racing:
Trinidad has Santa Rosa Park, a horse racing track. There is also goat racing and crab racing in Tobago.

Sailing:
As Trinidad and Tobago is just south of the hurricane belt it is very popular with international cruising yachtsmen, especially from August to October. Consequently there have been a number of repair centres and other facilities developed, the majority of these are situated in Chaguaramas. This international community is also part of the tourism industry along with eco tours and carnival.