Tourist Information
Trinidad Travel Guide

The twin republic of Trinidad and Tobago is the leading nation in the eastern Caribbean.

Trinidad

Trinidad lies only 7 miles off the coast of Venezuela and the South American continent (to which both Trinidad and Tobago were once joined). To the north of Trinidad is the Caribbean Sea, to the south the Orinoco runs into the Atlantic. The island is just 50 miles north/south and 30 miles across at the centre.

Trinidad is for the most part outside the mainstream Caribbean tourist trade of 'sun, sea and sand' (though it has each in plenty). It attracts instead a variety of visitors interested in wildlife, nature and the island's rich culture. Walking and trekking are also good options. There are some excellent local beaches along the north coast: crescent bays with quiet sandy beaches backed by palm-trees, fishing villages enlarged by a few beach houses and very few hotels, and livelier beaches near Port of Spain serving its week-enders. Trinidad is very popular at Carnival (the two days before Ash Wednesday) and in the weeks leading up to it.
Traveling to Trinidad and Tobago
Traveling by air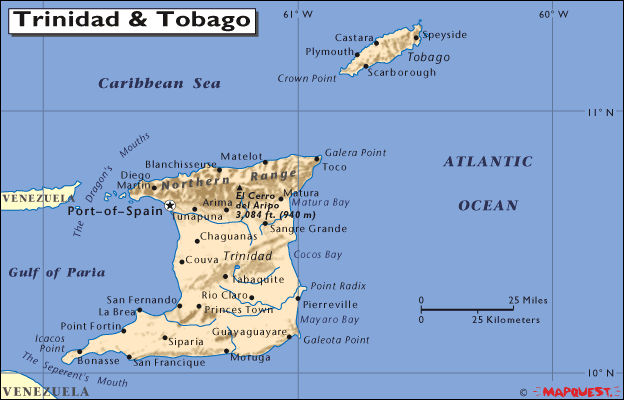 There are 6 airports in Trinidad and Tobago, 3 of which are paved.
Traveling by car
There are 8,320 Km of highways in Trinidad and Tobago.
Traveling by water
The most important ports and harbours are in Point Fortin, Point Lisas, Port-of-Spain.
Weather
Because of Trinidad's southerly location, temperatures are equable year round. The average daily high temperature in Port of Spain is 31°C (88°F) in both January and July, while the low averages 22°C (72°F) in July and is only one degree cooler in January. December to May are the driest months, with a relative humidity of 75%. June to August, the wettest months, average 260mm (10in) of rain and 23 rainy days each month. Trinidad & Tobago are outside the hurricane belt and generally don't experience the severe storms that hit the more northerly islands.
Trinidad and Tobago are located at the end of the chain of Caribbean islands, which makes flying the most convenient way to reach both these tropical vacation spots. Each island has its own airport. Tobago's Crown Point Airport is the smaller of the two. Most vacationers will fly into Trinidad's Piarco International Airport, which is 16 miles from Port of Spain, the country's capital.
Flights from all over the world, including the United Sates, Canada, the United Kingdom, South America, and other Caribbean islands, arrive at Trinidad's Piacro regularly. Tobago is generally an easy destination to reach, but Crown Point International Airport is smaller than Trinidad's airport, and fewer airlines stop there. Both airports have landing strips large enough to accommodate almost any size aircraft, and banking and dining facilities for travelers' convenience.
Several airlines from around the world serve the Trinidad airport, including the following:




Airline
Contact Info
Travels

Air Canada
868-664-4065 (in Trinidad)
888-247-2262 ( in the U.S.)
758-454-6038 ( in Canada)

Nonstop flights from Toronto to Trinidad

Air Caribbean
868-623-2500 (in Trinidad)

Numerous flights from other Caribbean islands to Trinidad and Tobago

American Airlines
800-433-7300 (in the U.S.)
868-664-4661 ( in Trinidad)

Daily direct flight from New York and Miami to Trinidad

British Airways
0870-850-9850
800-744-2997
Weekly flights from London to Tobago
BWIA
800-169-7745 (in the U.K.)
868-627-BWIA (868-627-2942 in Trinidad)
Direct flights from London
Guyana Airways
868-627-2753 (in Trinidad)
LIAT
868-627-1942 (in Trinidad)
888-844-5428

Numerous flights from other Caribbean islands to Trinidad and from eastern Caribbean islands to Tobago

Surinam Airways
868-625-0102 (in Trinidad)



For the best deal on airfare, consider flying during the summer, which is the Caribbean's low season. It also helps to be flexible about when you are traveling. Leaving and returning during the middle of the week will result in a more inexpensive ticket than flying on the weekend. Book a round-trip ticket versus a one-way flight, which is usually more expensive.
Trinidad
Location: Latitude 10 1/2°N, Longitude 61 1/2° W
Physical Area: Rectangular in shape, measures 37 miles by 50 miles.
Total Area: 1,864 square miles (4828km2)
Major Cities: Port of Spain (capital), San Fernando
Major Towns: Arima, Point Fortin, Chaguanas