Culture
The islands of Trinidad and Tobago are famous for their steel band music. This music is an important part of Carnival,the biggest celebration of the year on the islands. Carnival is a giant celebration that happens before Lent every year. There are man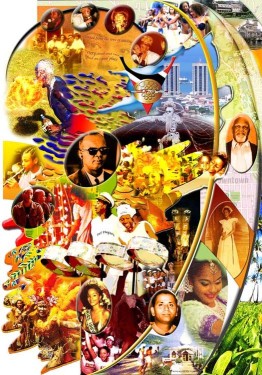 y parties and parades where thousands of people dress up in fantastic costumes and dance the calypso. It is very colorful and lots of fun for everyone.
Trinidad and Tobago also have their own university and many local artists and writers. There are theaters that put on plays and many musical concerts and celebrations.
For sports, people enjoy soccer, rugby, cricket, horse racing, and boat racing. There are powerboat races between the two islands.
calypso music and the steelpan, which is widely claimed to be the only acoustic musical instrument invented during the 20th century. The diverse cultural and religious background allows for many festivities and ceremonies throughout the year. Other indigenous art forms include soca (a derivate of calypso),Parang (Venezuelan-influenced Christmas music),chutney,Rapso music, which was made famous by Cheryl Byron and pichakaree (musical forms which blend the music of the Caribbean and India) and the famous Limbo dance.
The artistic scene is vibrant. Trinidad and Tobago claims two Nobel Prize-winning authors, V.S. Naipaul and St Lucian-born Derek Walcott. Mas' designer Peter Minshall is renowned not only for his Carnival costumes, but also for his role in opening ceremonies of the Barcelona Olympics, the 1994 Football World Cup, the 1996 Summer Olympics and the 2002 Winter Olympics, for which he won an Emmy Award.Hasely Crawford was the first Trinidadian to win the Olympic Gold Medal in the men's 100 m dash.

SCHEDULE OF CULTURAL AND RELIGIOUS EVENTS 2000 - 2030
YEAR
CARNIVAL
HOSAY
DIVALI
EID-UL-FITR

2000

Mar. 6 - 7

Apr. 15

Oct. 26

Dec. 27

2001

Feb. 26 - 27

Apr. 4

Nov. 14

Dec. 16

2002

Feb. 11 - 12

Mar. 24

Nov. 4

Dec. 6

2003

Mar. 3 - 4

Mar. 13

Oct. 25

Nov. 25

2004

Feb. 23 - 24

Mar. 2

Nov. 12

Nov. 14

2005

Feb. 7 - 8

Feb. 19

Nov. 1

Nov. 4

2006

Feb. 27 - 28

Feb. 8

Oct. 21

Oct. 24

2007

Feb. 19 - 20

Jan. 30

Nov. 9

Oct. 13

2008

Feb. 4 - 5

Jan. 19

Oct. 28

Oct. 1

2009

Feb. 23 - 24

Jan. 7 & Dec. 27

Oct. 17

Sep. 20

2010

Feb. 15 - 16

Dec. 16

Nov. 5

Sep. 10

2011

Mar. 7 - 8

Dec. 6

Oct. 26

Aug. 31

2012

Feb. 20 - 21

Nov. 24

Nov. 13

Aug. 19

2013

Feb. 11 - 12

Nov. 14

Nov. 3

Aug. 9

2014

Mar. 3 - 4

Nov. 3

Oct. 23

Jul. 29

2015

Feb. 16 - 17

Oct. 23

Nov. 11

Jul. 18

2016

Feb. 8 - 9

Oct. 11

Oct. 30

Jul. 6

2017

Feb. 27 - 28

Oct. 1

Oct. 19

Jun. 25

2018

Feb. 12 - 13

Sep. 20

Nov. 7

Jun. 15

2019

Mar. 4 - 5

Sep. 10

Oct. 27

Jun. 5

2020

Feb. 24 - 25

Aug. 29

Nov. 14

May 24

2021

Feb. 15 - 16

Aug. 19

Nov. 4

May 13

2022

Feb. 28 - Mar. 1

Aug. 8

Oct. 25

May 2

2023

Feb. 20 - 21

Jul. 28

Nov. 12

Apr. 21

2024

Feb. 12 - 13

Jul. 16

Nov. 1

Apr. 10

2025

Mar. 3 - 4

Jul. 6

Oct. 21

Mar. 31

2026

Feb. 16 - 17

Jun. 25

Nov. 8

Mar. 20

2027

Feb. 8 - 9

Jun. 15

Oct. 29

Mar. 10

2028

Feb. 28 - 29

Jun. 4

Oct. 17

Feb. 27

2029

Feb. 12 - 13

May 24

Nov. 5

Feb. 15

2030

Mar. 4 - 5

May 13

Oct. 26

Feb. 4